Putting Green Technology to Work
SRJC's first renewable energy program will train students on the Solar PV Basics (7 units), Solar PV Installation (12 units), and Solar PV Systems Design & Sales (12 units). Learn first hand from industry experts about this exciting industry and career.
Beginning this Fall!!!
"RENRG 101: Renewable Energy Careers" (2 units)
Introduction to the renewable energy industry including solar, wind, geothermal energy and their distribution.
Discussion to include careers within the industry, the employment working conditions, social aspects, educational and experience requirements.
You can find Renewable Energy Careers in the schedule of classes for Fall 2020 under Renewable Energy.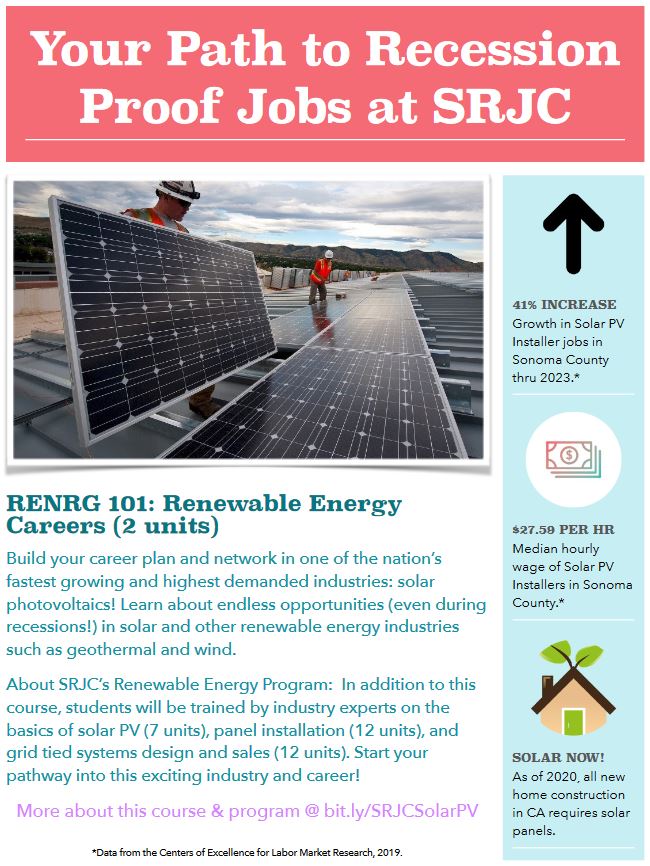 Links:
RENRG Courses and Certificates
Contact Info:
Department Chair:
Robert Grandmaison
Office Phone #: (707) 527-4634
E-mail: rgrandmaison@santarosa.edu