Geospatial Technology Certificate / Degree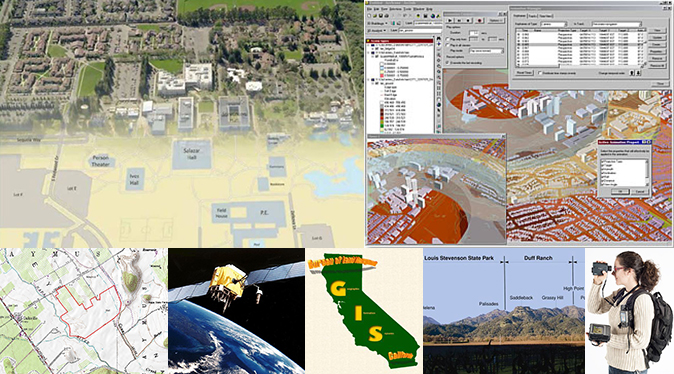 NOTICE:
The Geospatial Technology (GIS) Program is going on hiatus beginning Fall 2019. We hope to retool the program and bring it back in the future.
We will continue to offer the GIS 40 (Intro to GIS) course as it is needed for other programs at SRJC.
Geospatial (GIS) Technology Program
"Because everything is somewhere!"
The Geospatial Technology Certificate of Achievement program prepares students for variety of technical positions in many different professions. Geospatial Technology incorporates new technology with traditional disciplines by mapping, analyzing and modeling features and events in two, three or four dimensions.
The Geospatial Technology program prepares students for variety of technical positions in the geospatial professions. The new, more focused "Year to Career" program course sequence is set up to allow the student to progress through two semesters of core courses for a Certificate of Achievement or to take those courses as part of an Associate's Degree in Geospatial Technology.
 
-Geospatial (GIS) Technology Course Sequence Webpage-
 
A Career in Geospatial Technology
In general, people who are inquisitive, have a good work ethic, and possess a passion and excitement for exploration are a perfect fit for the geospatial industry. The field attracts people from many different disciplines like: agriculture, astronomy, civil engineering, computer science, geography, geology, forestry, history, natural resources, public safety and surveying backgrounds. Geospatial technology curriculum includes courses in algebra, geometry, trigonometry, computer aided drafting (CAD), surveying, civil engineering, geography and computer science.
The student will be able to manipulate, analyze, map and display spatial data and information, combining layers of information about a place to give a better understanding of that place. What layers of information are combined depends on the purpose; finding the best location for a new store, analyzing environmental damage, viewing similar crimes in a city to detect a pattern, and other related uses.
The program sequence is set up to allow the student to progress through two semesters and achieve a Certificate of Achievement or an Associate's Degree in Geospatial Technology. We offer classes at least once per year and accommodate the number of students as best we can.
SRJC students completing this (degree or certificate) program will be fully prepared to directly enter the workplace in this field.  Many of the courses numbered 1-99 could also be used to fulfill major requirements or electives at CSU and UC campuses in fields such as Construction Management and Civil Engineering.  Consult with your counselor regarding any plans for transfer.
What is Geospatial Technology?
The U.S. Geological Survey defines Geospatial Technology as, "a computer system capable of capturing, storing, analyzing, and displaying spatial (geographically referenced) and non-spatial information." That is, data identified according to location. It also includes the procedures, operating personnel, and spatial data that go into the system. The power of geospatial technology comes from the ability to relate different non-spatial information in a spatial context and to reach a conclusion about this relationship.
Geospatial Technology is one of the fastest growing career fields in North America, with analysis and planning applications in numerous areas. Virtually any agency, business, or organization that utilizes land planning or analysis of business problems to model systems and alternatives before management decisions are implemented can benefit from utilizing geospatial technology to accurately capture and display a variety of geographically related information.
 
-Geospatial (GIS) Technology Course Sequence Webpage-
 
Career Options
Excellent employment opportunities exist in the geospatial fields. Geospatial technology is for men and women who are interested in data collection and management, mapping, and spatial analysis. Opportunities are available in both public service and private enterprise including local, state, and federal agencies, national parks, non-profit organizations, private consulting firms, and business. Geospatial Technology has applications in economics and market research analysis, emergency response, environmental protection and planning, land use planning, public health and safety, utility planning and management, transportation planning, delivery route planning, real estate, and crime prevention, among others.
The Bureau of Labor Statistics expects job opportunities in the geospatial field to grow steadily through 2020. The areas of urban planning, architecture, construction, environmental planning, and disaster and emergency planning will be particularly strong.
Geographic Information Systems Career Ladder
GIS Principal (Private Industry Owner, experience and 4 year degree or advanced degree and generally specializing in a particular discipline
GIS Manager (Supervisor, with experience and 4 year degree or advanced degree)
GIS Analyst (Lead Person, experience and 4 year degree)
GIS Technician I, II, and III (Certificate of Achievement from SRJC and experience)
Mapping Technician (Certificate from SRJC and experience)
Civil Engineering, Geospatial & Surveying Technology Programs Coordinator:
Reg Parks
Office Phone #: (707) 527-4376
E-mail: rparks@santarosa.edu